After Lockdown: Getting Athletes Back Up to Speed Safely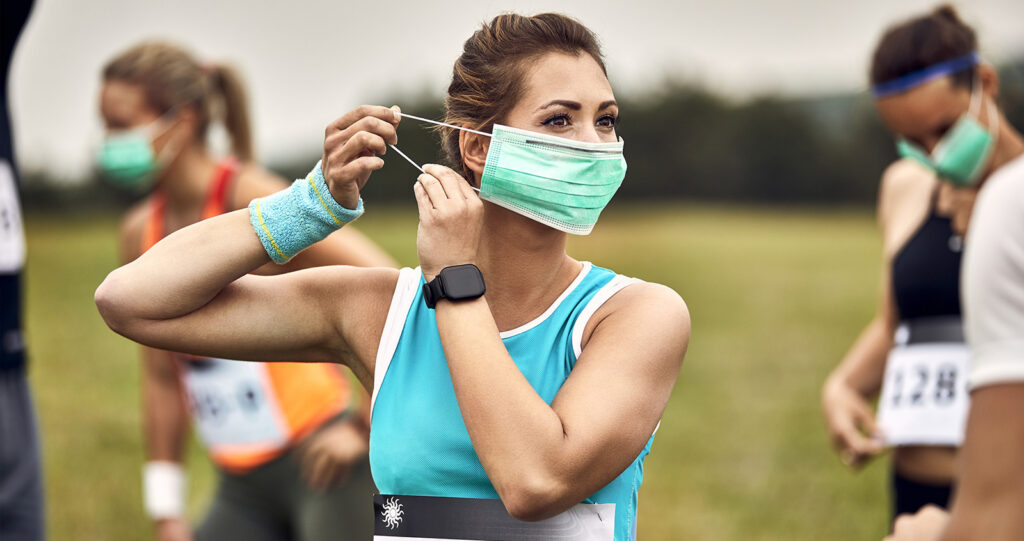 By Dr. Michael E. Pomykala, PT, DPT, OCS, CSCS, and Dr. Adrian Lorenzo PT, DPT, CSCS
This May, as we gradually emerge from the Covid-19 pandemic cocoon, we know many of our patients are anxious to get back to their pre-pandemic sports and recreational activities. As all levels of sports activity ramp up again, we are here to help our patient athletes take stock of how their bodies may have changed and weakened during the layoff – and how to avoid injury while getting back up to speed again.
Detraining
Being unable to participate in regular sports training may cause detraining, which can affect an athlete's performance and increase the risk of injury as training and competition start up again. Detraining affects many of our body's systems, including neuromuscular, cardiorespiratory, and musculoskeletal. Therefore, strategies need to be in place to promote a safe, appropriate and progressive return to play. Your Scerbo Physical Therapy & Sports Rehabilitation physical therapist knows that different sports require specific considerations depending on the level of performance demands and training content.
Injury Prevention
With the return to school and sports, some coaches may want to make up for the lost time by increasing the athlete's training level too quickly. This may lead to overuse injuries. This is where the advice of a qualified physical therapist is invaluable. We know how to structure a safe progressive return to play for each individual athlete. Some factors we take into account are:
• Total time away from the sport
• Health status (was the athlete affected by Covid-19?)
• The complexity of the sport
• How much and what type of training, if any, was performed during the layoff
• Exercise regimes and nutritional habits during lockdown
• Changes in attitude toward sports activity
Whatever your age and skill level, this period of transition from lockdown to resumption of recreational or competitive athletics will require careful preparation to avoid injuries caused by too much, too soon. Your Scerbo physical therapist will employ the latest technology and evidence-based research to structure a conditioning program specific to your current physical level and your goals in returning to play.
WE ARE OPEN and ready to help. Call for an appointment at our state-of-the-art Edgewater, NJ facility: 201-941-2240.
About Our Sports, Strength, and Conditioning Physical Therapists:
Dr. Michael E. Pomykala PT, DPT, OCS, CSCS is a graduate of the University of the Sciences in Philadelphia, receiving his Bachelor's in Health Sciences and Doctorate in Physical Therapy. Dr. Pomykala became a certified personal trainer through the American Aerobic Association International and International Sports Medicine Association prior to his start as a physical therapist and was a competitive bodybuilder throughout college. His primary physical therapy and rehabilitation interests include sports injuries, orthopedics, and preventative injury/conditioning programs, especially in high school and collegiate athletes. Dr. Pomykala is Titleist Performance Institute Certification helping injured golfers make their way back onto the course. Dr. Pomykala has a TPI Medical Level 2 Certification as a medical provider within the Titleist Performance Institute network.
Dr. Adrian Lorenzo, PT, DPT graduated with a B.S. in Biology from Montclair State University and received his Doctorate in Physical Therapy from Kean University. Dr. Lorenzo specializes in adult orthopedic/sports physical therapy with a strong interest in post-surgical rehabilitation. He has obtained clinical experience in multiple outpatient orthopedic settings and completed a neurological rehab affiliation gaining experience with brain and spinal cord injuries. Dr. Lorenzo is an active member of the American Physical Therapy Association and focuses on orthopedic and sports physical therapy.