Performance Enhancement Training
At Scerbo Physical Therapy & Sports Rehabilitation we provide individual performance enhancement training for both post-surgical and non-surgical patients medically cleared for physical activity and progression. Functional assessment testing will help design short and progressive programs for multiple sport disciplines from basketball and baseball to running and tennis. Our Performance Enhancement Training Specialist will progress your rehabilitation from stationary strengthening to your playing field. Muscle and joint flexibility program available to improve your active range of motion and help prevent re-injury.
No health insurance required.
Our Performance Enhancement services include:
Combine/SPARQ Testing
Education and Instruction for Coaches
Golf Instruction with our TPI Certified Instructor
Overhead Athlete and ACL Injury Prevention Programming
Performance Enhancement Training Specialist
Speed Development
Sport-Specific Training
Youth Fitness and Development Training

Our Sports Rehabilitation Specialist: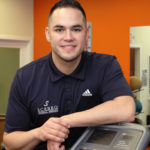 The Performance Enhancement Training program is led by Angel Montanez, ATC, LAT, PES. Mr. Montanez is a certified Performance Enhancement Specialist from the National Academy of Sports Medicine. His training experience extends from preadolescents to competitive athletes to senior citizens. He is also a licensed athletic trainer in the State of New Jersey with over 10 years experience at the high school, collegiate, and professional levels. Currently Angel designs sport-specific strength & conditioning programs for adolescents at a private high school as well as assists the Sports Medicine staff of the San Diego Padres Development Team in the Dominican Republic.